I'm fascinated to create flavors to make me explore new approach.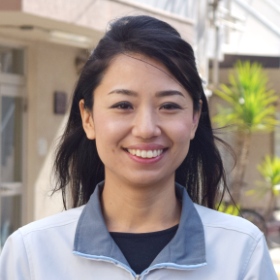 M.S
| | | |
| --- | --- | --- |
| Joined | : | 2005 |
| Department | : | Flavoring development |
| Hobby | : | Yoga / Checking on cafe / Travel |
Q1. Please tell us a little about your job
A1. Combining raw materials to develop the scents customers seek
I belong to Flavoring Development Division. I create flavors for food products like beverage and sweets to fulfill client request. And, we also talk about how to appeal flavors with sales and marketing division and support to make the presentation material in scientific part. For that, it's necessary to research the market and explore exhibitions.
Q2. What do you find most appealing about this job?
A2. Every time let me try different way to create ideal flavors.
I'm fascinated to create flavors. It is interesting and difficult that the representation of flavors changes depending on the final food products. So I need to do a trial over and over again eating the prototype. I feel the depth of creation, because I can't make the ideal flavors by just combining established prescription patterns. And it is stimulating that I can acquire knowledge about food and discuss the feature of flavor, food, sweets and beverage with my colleague.
Q3. Is there anything that you found particularly difficult about this job?
A3. To keep to improve conversation skill and have curiosity to create the flavor what clients want.
Taking client's needs accurately is very difficult. Especially, I struggle to understand the needs of the overseas clients for the difference of taste and cultural background. I make efforts to keep to learn more about their taste by market research and information from local staff, and make the best flavors to clients.
Q4. How do you utilize your vacation days and employee benefits?
A4. I can keep a balance between job and housework
I have time to refresh myself by chill out at bistro and cafe, doing yoga, and sometimes going out to the zoo or park with my kids. I can keep a balance between job and housework. There are a lot of colleague double-income couples with kids. Actually, many of them return to work after childbirth. I feel grateful for taking care-leave when my child runs a fever.
Q5. Do you have a message for all the job-hunters out there?
I think you should take a look many different companies without bias. You cannot participate in the company information session and research other companies after getting employed. The time for job hunting is short and precious, so you should think about your value for work seriously. I hope you will be able to work in ways you like.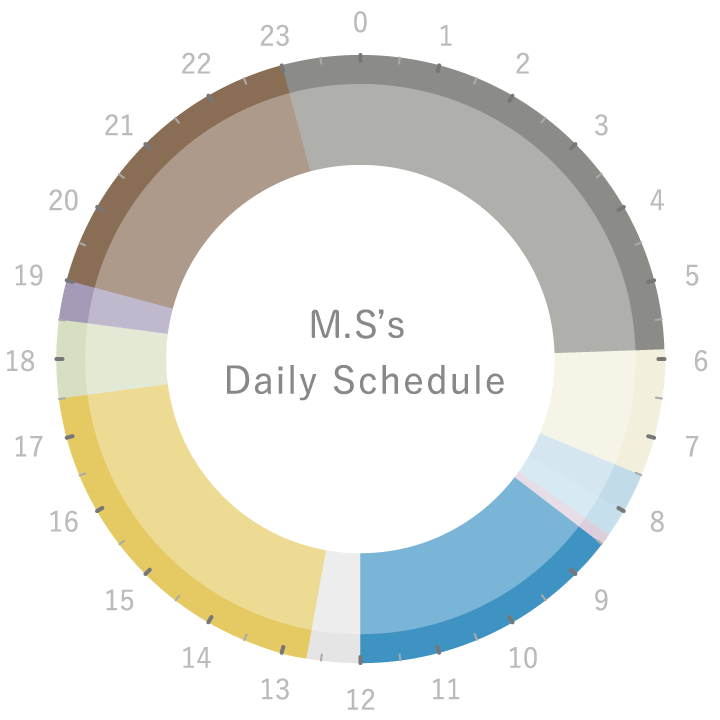 | | |
| --- | --- |
| 05:50 | breakfast, getting ready for the day |
| 07:30 | take a child to the nursery school |
| 08:20 | arrive at the office |
| 08:30 | being work (meetings, blending) |
| 12:00 | lunch |
| 12:40 | blending, evaluating flavor (formulation) |
| 17:30 | leave the workplace |
| 18:30 | take a child from the nursery school |
| 19:00 | arrive home, dinner, housework |
| 23:00 | bed time |