Drawing on my sensibilities to give shape to scent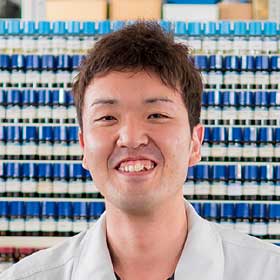 S.U
| | | |
| --- | --- | --- |
| Joined | : | 2012 |
| Department | : | Fragrance development |
| Hobby | : | Calligraphy / Martial arts / Music festivals |
Q1. Please tell us a little about your job
A1. Based on clients' needs, I develop fragrances used in everyday products.
The fragrance development division to which I belong follows customers' various requests to develop everyday fragrances. Clients can have a wide range of requests depending on the type of product being developed. For example, they may seek something physical: "the scent of a deep and sweet red rose." Or they may have an emotional idea in mind, like, "a scent that recalls summer." The key here is finding how to come as close as possible to that client's image. This is of course done through conversations with the client, and through debating with the sales and development teams.
Q2. What do you find most appealing about this job?
A2. I like drawing on my personal sensibilities to explore how to give shape to scents.
Everyone has a different concept of scent. In the case of fragrance blenders, we draw on our full complement of sensibilities and give them actual shape in a finished product. Through my work, I want to further sharpen my aesthetic sensibilities and continue creating scents that will be loved by many.
Q3. Is there anything that you found particularly difficult about this job?
A3. Giving shape to scents we visualize is not glamorous work -- it involves time and patience.
There are many, many raw materials used in blending, and a wide range of different combinations. This means creating the scent you aim for can be quite a tricky proposition. We draw on various references and feedback from others and gradually develop refinements that bring us closer to our goal. This is a series of tedious processes, but it is hugely pleasing to finally take hold of the finished product featuring a scent you've made.
Q4. How do you utilize your vacation days and employee benefits?
A4. I take English classes on weekdays after work; on days off, I dabble in calligraphy.
I often go overseas for work, so I'm studying English on a daily basis. I'm currently cramming in advance of an international conference.
On days off, I go to a calligraphy school. I studied calligraphy when I was younger, but later stopped. I picked it up again as an adult. I am increasingly asked to write things for people in fine calligraphy, so you might say it's my special skill.
Q5. Do you have a message for all the job-hunters out there?
Don't give up on whatever it is you like doing now or whatever it is you aspire to do. A goal or aspiration is a major advantage to have, both in looking for a job and in your future life. It's good to have dreams. While you may run into adversity, don't give up. Remember that this experience will help you grow. You have plenty of time before you, so focus on mastering what you already like or are good at.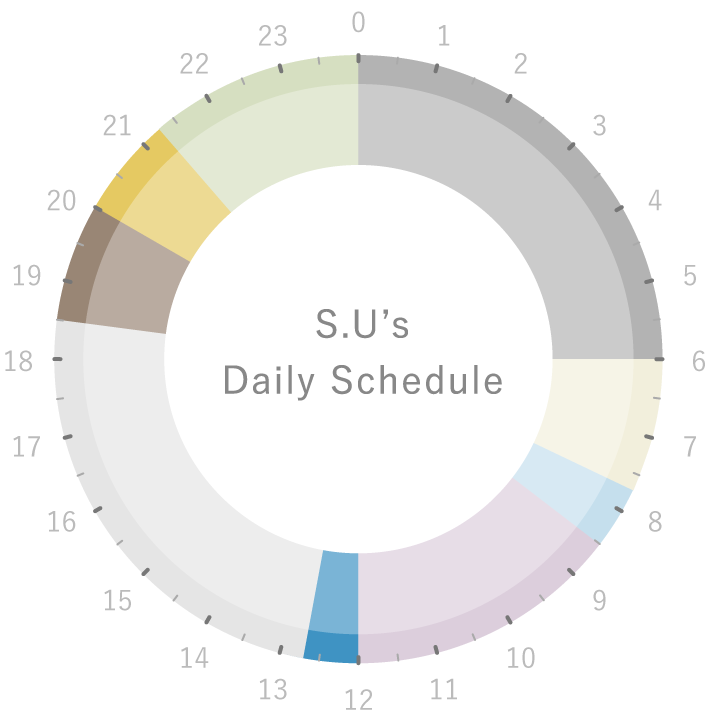 | | |
| --- | --- |
| 06:00 | breakfast, getting ready for the day |
| 07:40 | arrive at the office and prepare for work |
| 08:30 | begin work (morning assembly, blending preparations) |
| 12:00 | lunch |
| 12:40 | blending, evaluating formulations, etc. |
| 18:30 | leave the workplace |
| 20:00 | English classes |
| 21:15 | home; dinner, free time (TV, reading, calligraphy, etc.) |
| 00:00 | bed time |