Research and development is a repeated process of trial and error
T.Y
| | | |
| --- | --- | --- |
| Joined | : | 2007 |
| Department | : | Material and Technology Development Institute |
| Hobby | : | Reading / Watching pro-wrestling |
Q1. Please tell us a little about your job
A1. Perform research and development of basic technologies and support the work of the Development Department
At my department, Material and Technology Development Institute, we support the Development Department by conducting research and development on basic technologies. Besides my main tasks of "analysis", "synthesis", "extraction", I also work on developing new materials, etc. Among these, analysis is a significantly important task in creating fragrances.
For example, food that is "delicious" tastes subtly different from person to person. In this way, the feel of the fragrance also varies according to each person. Therefore, scientific data to be shared with customers is essential in the creation of fragrances.
Q2. What do you find most appealing about this job?
A2. Joy of my ideas coming into form
As the compositions of fragrances and flavours are extremely complicated, their research and development is a repetition of trial and error. It's ok to assume that behind one success lies ten failed attempts. However, even though I may fail repeatedly, seeing my ideas come into form is a very rewarding and fun experience.
Q3. Is there anything that you found particularly difficult about this job?
A3. As methods of analysis differ according to fragrance, it's important to have curiosity for a diverse range of things
To recreate the natural aroma of fragrances, research is required in an extensive range of fields like aroma analysis of fruits and flowers, extraction technologies, and searching for functional materials, etc. Furthermore, methods and tools of analysis varies according to each fragrance, so it's also important to not limit yourself to your field but to continue to be curious about a wide range of things.
Q4. How do you utilize your vacation days and employee benefits?
A4. Holidays are spent with families, and my hobby, reading, is done in the company library
I have a child who's one and a half years old, so my holidays are solely for my family. To my child's eyes, everything is fresh and new, so it's enjoyable just taking walks around the neighbourhood. Sometimes, I even take paid leave to go on trips.
Besides that, I like reading so I use the company library very often. The library is managed by the Books Department and there are always about 1000 books available in the library.
Q5. Do you have a message for all the job-hunters out there?
Job-hunting is also a good opportunity to rethink your connection with the society. Cherish encounters with diverse people and enjoy the process of trial and error. You may see the world a differently just by expanding your perspectives of society a little.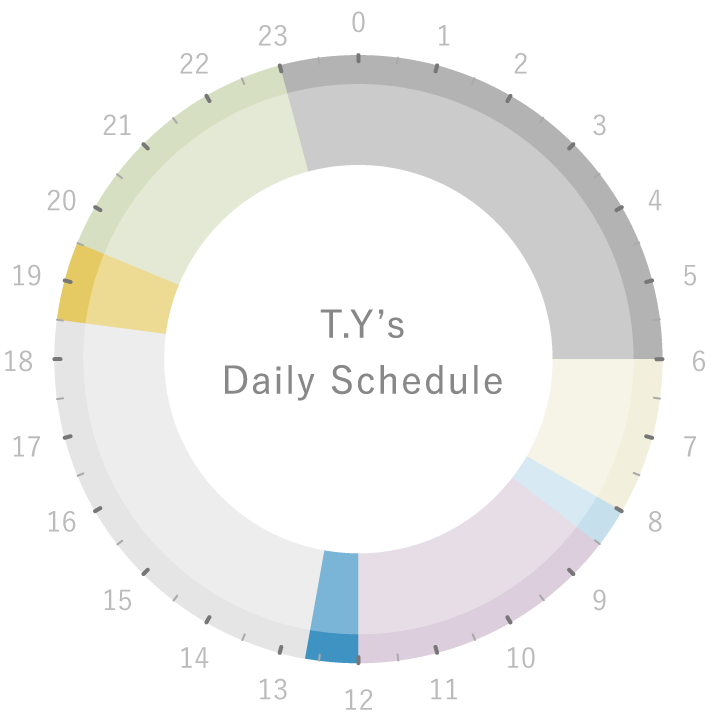 | | |
| --- | --- |
| 06:00 | Breakfast, Get dressed |
| 08:00 | Arrive at work (Prepare for work) |
| 08:30 | Start work (Desk work, Experiments) |
| 12:00 | Lunch |
| 12:40 | Meetings, Continue with experiments |
| 18:30 | Leave the workplace |
| 19:30 | Reach home / Dinner, Hanging out with the family, TV, Reading, etc. |
| 23:00 | Sleep |