Our company's products, delivered to customers without fail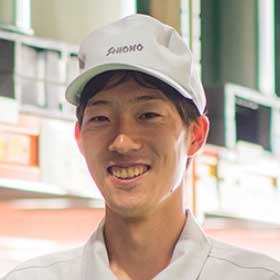 S.K
| | | |
| --- | --- | --- |
| Joined | : | 2009 |
| Department | : | Manufacturing management |
| Hobby | : | Tennis |
Q1. Please tell us a little about your job
A1. We manage the whole customer order process from receiving to shipping.
In the Manufacturing Management Department of which I am a member, we manage the whole customer order process from receiving to shipping. I have three main jobs: Checking stock and giving delivery estimates on "order duty", drafting manufacturing schedules based on sales plans on "manufacturing planning duty", and taking out, packaging, and shipping outgoing products on "delivery duty".
Q2. What do you find most appealing about this job?
A2. I like that I can use fragrances as a starting point to connect with various people and industries.
The products we have worked with can be seen in all kinds of places including supermarkets, convenience stores, and drugstores. The nice thing about working for a fragrance manufacturer is that I can relate to lots of different products I see around me. When I actually pick up one of the products we helped make, I feel proud.
Q3. Is there anything that you found particularly difficult about this job?
A3. We have a lot of different products, and it is difficult to arrange their delivery when we export them.
We deal with a lot of products, more than 1000 to be precise. This makes it very stressful to check every single order to make sure there are no mistakes.
We also export products to foreign clients, especially our affiliated companies in Taiwan and China, and it is really difficult to arrange the delivery of these products. But that makes us that much happier to gain the trust of our clients when we do our job without any mistakes.
Q4. How do you utilize your vacation days and employee benefits?
A4. I enjoy tennis with my friends from the factory.
I am part of the company tennis club, and I enjoy tennis with the other members on holidays and after work. Our team also has outside matches, and we practice once or twice a month even on weekends. It is really nice to have easy access to the company court.
Q5. Do you have a message for all the job-hunters out there?
I think the job search is a good opportunity to look for what you want to do and what you're interested in. Keep asking yourself what kind of person you want to become in the future, and find the kind of job that fits you.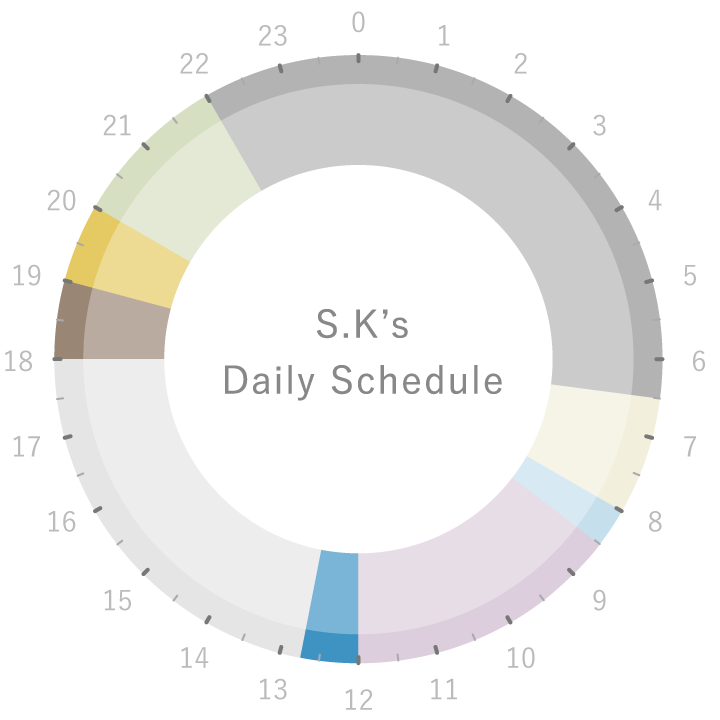 | | |
| --- | --- |
| 06:30 | Eat breakfast / Get ready |
| 08:00 | Arrive at the office (prepare for work) |
| 08:30 | Start work (radio exercise, morning meeting, sort delivery notices, check order forms, record orders received, etc.) |
| 12:00 | Lunch (tennis) |
| 12:40 | Compare orders with order forms, ship products to domestic and foreign clients |
| 18:00 | Leave the office |
| 19:00 | Arrive home |
| 20:00 | Eat dinner, Take time for hobbies (TV, tennis school, etc.) |
| 22:30 | To bed |