Become one with the Shiono Group and pursue the same vision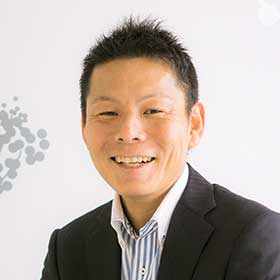 H.K
| | | |
| --- | --- | --- |
| Joined | : | 2016 |
| Department | : | Overseas Department |
| Hobby | : | Marathon |
Q1. Please tell us a little about your job
A1. I communicate with overseas affiliates with the goal of expanding the business
I entered Shiono Koryo after 11 years of materials R&D at a chemical manufacturer and 4 years of experience as a sales engineer. I chose this company because I wished to be engaged in new challenges in the process of doing my job. Shiono Kyoro is currently bringing affiliated companies in Japan and internationally together as one group while making moves to expand their business. My role as part of the Sales Office & Overseas Division is to prepare communication strategies with international bases as well as to ensure both international and domestic transactions proceed smoothly. In addition, I often travel abroad to have face-to-face meetings with regional employees.
Q2. What do you find most appealing about this job?
A2. I can work together with a united Shiono Group to challenge myself with new things
With a long background in international market development, there have been strongly independent business operations both in Japan and abroad at Shiono Koryo. However, Shiono Kyoro is currently engaged in restructuring efforts in order to flexibly respond to the increasingly difficult international market environment. The goal of business expansion is the first test of the united Shiono Group, doing work on the front lines of development. Engaging in work where no one has tread may be difficult, but it is ultimately exceptionally fulfilling.
Q3. Is there anything that you found particularly difficult about this job?
A3. Facilitating communication with overseas affiliates
One thing that I noticed when I started working here was the fact that communications within the group were far from satisfaction. As our Japanese and overseas affiliates often have a different sense of values, there are often clashes of opinion. In order to work together effectively, we strive to reach the same goals while respecting each other's points of view. Although it can sometimes be difficult, the work is quite rewarding.
Q4. How do you utilize your vacation days and employee benefits?
A4. I usually do things like spend time with my family and travel overseas
I have focused seriously on marathon running, and I practice running every morning. After entering Shiono Koryo I started Club RBS (running, biking, swimming), and created an exclusive group uniform. In the future, I want to move beyond domestic races and participate in international races as well to improve my rank.
I take holidays to match with family holidays as well as athletic meets and other school events where I can view student progress. This allows my vacations and days off to be even more fulfilling, and I look forward to them greatly. It is an easier environment to take vacations in, as I am able to manage the work I do on my own to a reasonable extent.
Q5. Do you have a message for all the job-hunters out there?
I believe it is important to express honestly what you are thinking in the interview. Do not make yourself match the company, rather, work at a company that matches your through processes. If you force yourself to match a company, eventually something will be more than you can handle and you will overwork yourself.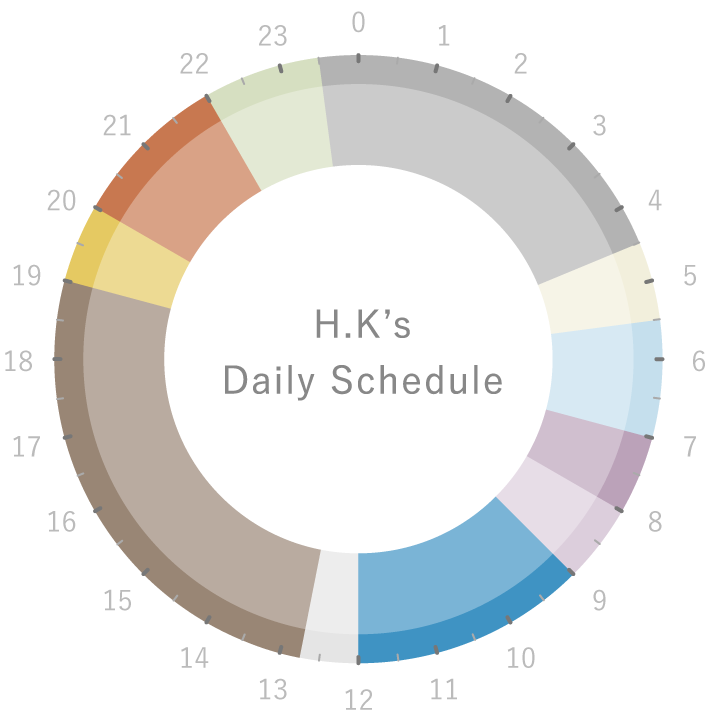 | | |
| --- | --- |
| 04:30 | Reading and study |
| 05:30 | Marathon training (roughly 1.5 hours) |
| 07:00 | Breakfast, get dressed |
| 08:00 | Go to work / leave the house (preparations for work) |
| 09:00 | Start work (videoconferences with international bases, project promotions at international bases, intelligence gathering and plan development regarding international business development) |
| 12:00 | Lunch |
| 12:45 | Continue working (the same duties as those in the morning) |
| 19:00 | Leave workplace |
| 20:00 | Arrive home / spend time with the family |
| 22:00 | Reading, study, checking e-mails |
| 23:30 | Go to bed |